"He said to them, "Go into all the world and preach the gospel to all creation'".
Mark 16:15
Please help to sponsor a bus load of people
The Christians in Lautoka in Fiji are so much looking forward to the upcoming "Come Together" outreach event. Tony Willis and Rodney Trinidad recently had an exciting time in Fiji with the training and preparation for the meetings in July. They reported that there are high expectations growing locally, for the coming event.
So many people live in outlying villages, away in the country and mountains. These people have no transportation. We want to bring these people to 3 DAYS OF MEETINGS by hiring buses to bring them to the events and get them home afterwards. We have a network of people on the ground organising this, now we need the funds to make this happen.
Please make the Fiji outreach a priority of prayer.
With all our love.
Bill and Dorothy and the Team
Easter
What a blessed time Easter has been where so many have heard the Gospel worldwide
Thousands would have heard the Gospel through our Easter TV Holy Land Special – "The Complete Sacrifice". We are encouraged by the feedback received from this. Thank you so much for your support to make this happen.
Hosanna Samoan Conference
I had the joy of speaking to the Hosanna Samoan Conference here in Brisbane Pastored by Rev Joshua Avia. It was a truly blessed time. People travelled from many places. It was a wonderful night with so many responding to the invitation.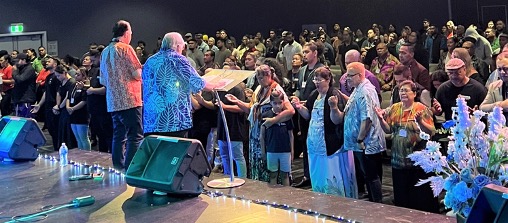 All this because you have given to the Lord's work. Again, we are so deeply grateful for your loving prayerful support.
Keep us constantly in your prayers.
Tracts
How to Win in Life
You can view all our Tracts and order online here.
For any variance to advertised quantities email: office@bnm.org.au or telephone: 0477 148 555